EDIT MAIN
A message from Mr. Lawrence:
Welcome to the Blue Ridge High School webpage. We are proud of our page, our students, our schools and our community. You are a welcome visitor.
We offer a strong curriculum that includes core courses in English, Math, Science and Social Studies, as well as electives in Music, Art, Industrial Arts, Family and Consumer Sciences, Business & Technology, and Agricultural Sciences. We have a proud tradition of success in our academic work.

Academics are our main focus, however, we have an excellent athletic and extra-curricular tradition. The Knights participate in the Heart of Illinois Conference in the sports of football, volleyball, girl's and boy's basketball, baseball, and softball. We also field coed soccer and track teams that play competitive schedules without conference play. Our cheerleaders compete in local competitions and provide the spark for our school spirit. Blue Ridge High school supports extra-curricular activities including band, chorus, and drama programs. These programs provide us with significant entertainment and success. The marching Knights consistently bring home hardware, and our dinner theatre production is a splendid evening of class and comedy. Another extra-curricular program that deserves mention here is our FFA program that boasts 40 members who work diligently to improve their skills in public speaking, organization, and agriculture.
Blue Ridge High School offers an excellent education that is well-supported by the parents of the communities of Bellflower, Farmer City, and Mansfield. Together, we are proud of our school and our students. We welcome your visit to share in our success.
Sincerely,
Mr. John Lawrence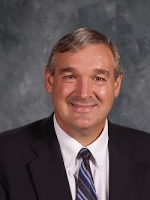 Blue Ridge High School Principal
Blue Ridge High School
Address: 411 N. John St., Farmer City, IL 61842
Phone: 1-309-928-2622
Fax: 1-309-928-5301