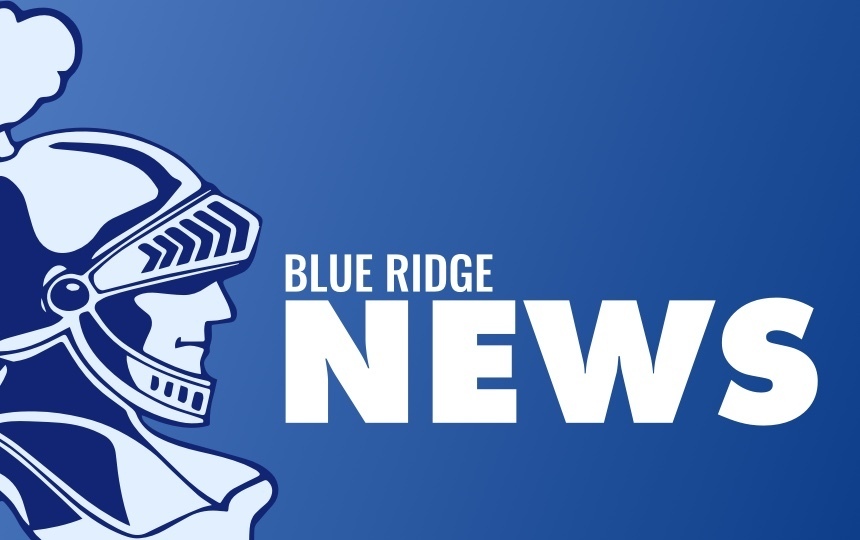 10/3 daily HS student announcements
Jill Hardesty
Wednesday, October 03, 2018
for Blue Ridge High School
Wednesday, October 3rd
Good Morning!
After lunch today, we'll have Pep Assembly Schedule from 2:50 to 3:10.
The Freshman class will be having a class meeting on Thursday in room 202 regarding Homecoming float building! Please be there!
There will be a quick meeting on Thursday at 12:30 for ANY students wishing to take an international trip either to Costa Rica in June 2019 or Germany, France, and Spain in June of 2020. The meeting will be in Ms. Loop's room 208. See Ms. Loop for details.
Seniors: Parkland has a morning and an afternoon College visit time on Monday October 8th! RSVP to Parkland.edu/campus to visit. Monday would be an excellent day to visit, without missing school.
The US Army will be here on Tuesday, Oct 9th during 3rd hour to talk to interested Juniors and Seniors. Please see Mrs. Whitehouse for a pass to speak with Sargent Dill from the Army.
More teams are needed this weekend for 3 on 3 basketball and Baseball as a benefit for Kade Nichols on Saturday! Make your own team and write them down and give to Jacalyn Pearl by Friday!
In preparation for Homecoming, if you are interested in participating in Macho Volleyball, Class Tug of War, Powder Puff Football or Mr. and Ms. Kool contests, Matt Isaacs will have a table at lunch in the Commons to sign up!
The sophomore class will be selling Walking Taco Bowls at Friday's football game! Cheer on the Knights and fill your belly with tacos! It's $5 and includes a bottle of water. This is a fundraiser for Prom/Post Prom.
It's Senior night at the Friday Football game for Football and Cheer! Come on out and watch our Knights play Covington at 7pm!
Congrats to the Varsity Volleyball team for defeating Argenta-Oreana last night 25-16, 21-25, 27-25 to capture 3rd place in the L.O.V.C. N.W. Division. Leading the Knights was Hannah Brackenhoff with 35 digs (a school record for a match), Avery Fisher with 26 assists, Willa Manual with 13 kills, Polly Reynolds with 3 blocks and Carley Ester with 3 aces. The knights are now 25-5 overall. The lady knights play at ALAH on Thursday at 5pm with the bus leaving at 3:15 pm. Go Knights!
Two days ago the Boys Golf team won a 4-way match against Tri-Point, Heyworth, and Fisher. Leading scorer was Gavin Raines with a 41 and Jacob Mozingo with a 42 score. On Wednesday the boys competed in 10 team regional tournament. The Knights finished second which means they will advance to the Danville Golf Sectionals. Leading scorers were Jacob Mozingo .and Aaron Jayne. Way to go Knights!
Today the Soccer Team plays at Fisher beginning at 6:30. Go Knights!
There will be no school this Friday, 10/5 for a Teacher's Institute day and Monday, 10/8 is Columbus Day!
After school detentions this week are with Mrs. Givens. Lunch detentions this week are with Mr. Seneca in room 116.
Today's lunch menu is: Spaghetti w/Garlic Stick or Chicken Patty w/Fries, Cauliflower w/Ranch, Juice and Milk