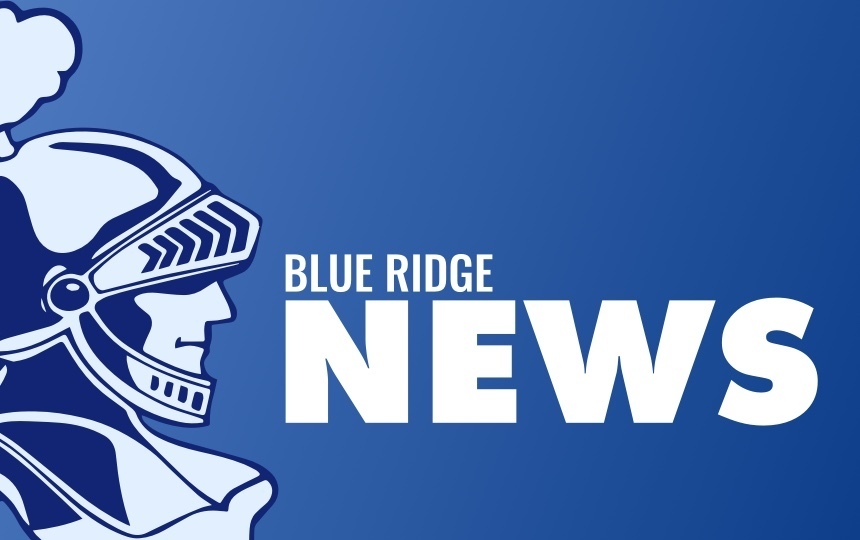 10/12 daily HS student announcements
Jill Hardesty
Friday, October 12, 2018

for Blue Ridge High School
Friday, October 12th
Good Morning!
Each class is shortened today and all 8 periods are before lunchtime. After lunch, please return to your 8th hour class for attendance and wait until students are called down to the pep assembly in the new gym. After the assembly, the Homecoming parade begins at 2pm in front of the high school and ends downtown on the square.
Today's dress theme is: Silver/Blue Day
New Spirit totals after Thursday's dress up day are: Freshmen 18 points, Sophomores 15, Juniors 20, and Seniors with 29. Homecoming floats are DOUBLE POINTS!!!! Good Luck to all the classes on their floats!
The Homecoming Dance will be this Saturday from 7:30 to 9:30 in the Old Gym. Dance tickets will be $5 at the door! Please make sure your dates bring their drivers' license or school ID's with them. Have fun at the homecoming dance and be safe out there!
Homecoming picture forms are in the High School office for Saturday night!
There will be a Spanish club meeting for all members on Tuesday, Oct 16th during lunch in Ms. Loop's room. Also, that there will be a meeting for parents of students wanting to go on the trip to Spain, France, and Germany in June of 2020…on Wednesday, October 24th at 6:30 in Ms. Loop's room. Anyone wishing to go with the Blue Ridge group is invited to attend.
Join us in the library during lunch for a Mystery Book Scavenger Hunt, Raffle Prizes, and more on Thursday, October 18th.
Congrats to the Varsity Volleyball team for defeating Arcola last night 25-16, 25-12 to improve to 28-5 (5-1 in the LOVC). Blue Ridge won the JV contest 25-23, 28-30, 15-12 and the frosh match 25-9, 25-11. Leading the varsity knights was Jessie Wanserski with 10 kills and 9 digs followed by Avery Fisher with 17 assists, Hannah Brackenhoff with 13 digs, and Polly Reynolds with 9 kills and 1 block. Thanks to all who came out and celebrated the pink out match with us. Go Knights!
The Soccer team plays Meridian at 10am on Saturday in the 2nd game of regionals! Go Knights!
Tonight the Football team plays in the homecoming game vs. South Newton Rebels. Game time is at 7pm. Go Knights!
Today's lunch menu is: Pepperoni Pizza or Buffalo Chicken Tenders, Side Salad, Baby Carrots, Cauliflower, Diced Peaches, Juice and Milk