11/16 daily BRHS student announcements
Jill Hardesty
Friday, November 16, 2018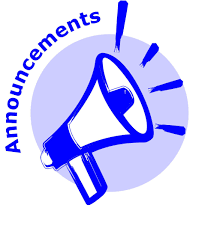 for Blue Ridge High School
Friday, November 16th
Seniors: please come to the office to sign off on the spelling of your name for your diploma's this week!
We will have the drawing TODAY from the Return to Learn Box. Each winner
will receive 2 Tickets to the Pancake Breakfast on Saturday at Applebee's. Good Luck!
Join us for "Booksgiving" in the Library TODAY during lunch. Participate in games, enjoy some treats, and help decorate for the winter holidays!
The FFA Agronomy contest will be on Monday November 19th.
Meet the Author! The library is hosting Karen M. McManus, author of One of Us is Lying, on Friday, November 30th at 12:15 PM. She will be presenting to students via Skype and sharing about the writing process and answering questions. Students interested in participating should sign up in the library. They will be excused a few minutes early for lunch, so the presentation can begin promptly.
Attention Freshmen: Puffins/Butter Braids Fundraiser forms were handed out last Friday. If you didn't receive one, see Mrs. Lagle. Money and orders are due November 26th!
Sectional Volleyball t-shirt order forms are in the office! They are due in the office Nov. 20th.
FFA Members wanting to get FFA Apparel need to get an order form from the Ag Room. Orders and money are due Tuesday November 27th.
Today the Girls Basketball Team plays Judah Christian in the Comet Classic in Oakwood
beginning at 8:00 pm. Good Luck Lady Knights!
Today's lunch menu is: Cheese Pizza or Chicken Tenders w/Bread stick and Oven Fries
Thank you and have a great day!