11/29 daily HS student announcements
Jill Hardesty
Thursday, November 29, 2018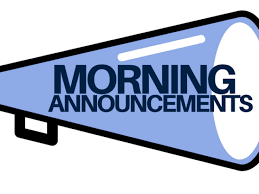 daily HS student announcements
Thursday, November 29th
Parkland college will be here on Dec. 6th to talk to interested students. Juniors can meet during 4th hour that day, and seniors can meet during 5th hour. Students who cannot miss class can meet with Ms. Hartman during lunch.
Smoothies will be available to purchase from the Sports Marketing Class TODAY during lunch —Get them while supplies last!
Meet the Author! The library is hosting Karen M. McManus, author of One of Us is Lying, this Friday, November 30th at 12:15 PM. She will be presenting to students via Skype and sharing about the writing process and answering questions. Students interested in participating should sign up in the library. They will be excused a few minutes early for lunch, so the presentation can begin promptly.
Are you looking to help your community this winter? The Blue Ridge FFA Chapter is taking new donations of: Hats, Gloves, Scarves, Packages of Underwear and socks, Diapers, Individual New Toys and new rolls of wrapping paper. You may bring the items to the HS commons and drop them in the box there. These donations will be collected on December 3rd and given to the Farmer City Angel Tree program. Thank you for helping out YOUR community!
Coach Hawkins would like the following golfers to bring back their golf bags: Alyvia Bernard, Jasmine Smith and Macy Baird. Also owing $10 for golf shirts are Garrett Wendell, Savannah Stiger and Jasmine Smith. Please bring the golf bags and money to the office as soon as possible.
It's not too late to register for the June 2020 trip to Germany, France and Spain. Prices are guaranteed through December 20th. See Ms. Loop for details.
There will be a Spanish Club meeting on Tuesday, December 4th during lunch. Gwendollen Rudy from AFS International will be here at 12:30 that day to discuss the Student exchange program opportunities. Anyone wishing to have more information about student exchange programs may attend.
Winter sports photos will be on Dec. 12th at 3:30 in the old gym. Picture schedule is:
Boys Basketball: 3:30
Girls Basketball 4:00
Cheer 4:30
The FFA Dairy Foods team competed last night at Sangamon Valley High School with the team consisting of of Anthony Thompson, Audrie McClain, Corissa Godbee, Katie Cole, Megan Schumacher, Gracie Myers-Nichols, Dawson Raines, and Abby Bolen. Individually Gracie was 10th overall, Audrie 6th overall, Abby 5th overall, and Megan 2nd overall with the team earning 1st place overall team! Way to go!
The next FFA meeting is Monday December 3rd with committees meeting at 6pm and the regular meeting at 7pm- bring an item to participate in the White Elephant activity, wear your best Holiday Sweater, and bring your favorite cookie to share. If you have questions feel free to ask one of the FFA Officers or Ms. Meisner.
This week's after school detentions are with Mr. Sparks.
Today's lunch menu is: Build a sub ham, turkey, salami or pepperoni bread, tiny triangles, green beans, and orange wedge