12/3 daily HS student announcements
Jill Hardesty
Monday, December 03, 2018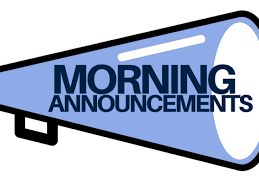 Daily HS Student Announcements
for Blue Ridge High School
Monday, December 3rd
The next FFA meeting is TONIGHT at 6pm and the regular meeting at 7pm. Please bring an item to participate in the White Elephant activity, wear your best Holiday Sweater, and bring your favorite cookie to share. If you have questions, feel free to ask one of the FFA Officers or Ms. Meisner.
TODAY is the last day to help the FFA help your community with NEW Hats, Gloves, Scarves, Packages of Underwear and socks, Diapers, individual New toys and new rolls of wrapping paper. They will be given to the Farmer City Angel Tree program. Thank you for helping out YOUR community!
Attention students and faculty members, this week will be the final week smoothies will be sold at lunch. This includes the strawberry smoothie along with the possibility for a new flavor coming on Thursday!
It's not too late to register for the June 2020 trip to Germany, France and Spain. Prices are guaranteed through December 20th. See Ms. Loop for details.
There will be a Spanish Club meeting Tuesday during lunch. AFS International will be here at 12:30 that day to discuss the Student exchange program opportunities. Anyone wishing to have more information about student exchange programs may attend.
Parkland college will be here on Dec. 6th to talk to interested students. Juniors can meet during 4th hour that day, and seniors can meet during 5th hour. Students who cannot miss class can meet with Ms. Hartman during lunch.
Winter sports photos will be on Dec. 12th at 3:30 in the old gym. Picture schedule is:
Quiz Bowl at 3:15 Boys Basketball: 3:30 Girls Basketball 4:00 Cheer 4:30
The Winter Band and Choral Concert will be on Tuesday, December 18th in the Old Gym.
With the hustle and bustle of the holiday season upon us the "We are More" Campaign is reminding parents to slow down, spend extra quality time with your teens and have a safe and healthy holiday season.
Congrats to Avery Fisher and Polly Reynolds for being named to the volleyball all-area honorable mention recognition list. Congrats to the varsity volleyball team for finishing the year 4th in the area for top volleyball team. Way to go lady knights!
The Boys Varsity team beat Midland on Saturday 66-38. Leading scorer was Zach Stephens with 24 points.
Tonight the Girls Varsity Basketball team plays at Urbana University High School beginning at
6:00 pm. Good Luck Lady Knights!
Today's lunch menu is: Cheeseburger or Pork Fritter
Thank you and have a great day!