12/19 daily HS student announcements
Jill Hardesty
Wednesday, December 19, 2018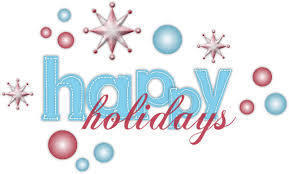 Daily BRHS Student Announcements
Wednesday, December 19th
Thanks to the Band and Chorus students and Mr. Mitchell! They put on a great holiday performance last night!
1st semester Finals finish TODAY!
Today's exams are 7th and 8th hour until 11:30. Make up exams are after 11:30.
Buses will be running regular times after school
Activity buses will be running regular time also, leaving the Farmer City campus at 5:45 to Mansfield
THURSDAY night the Girls Basketball team begins play in the Holiday Tournament at 7:30 at Arthur-Lovington-Atwood-Hammond. Bus time is 3:45. Friday Bus time is 1:30. They play at 3:30 and 6:30. Friday's game time depends on if they win or lose on Thursday and Friday. Go Knights!
Today's lunch menu is: Domino's Pizza
From the Staff and Faculty at Blue Ridge, we hope everyone has a great Christmas break and Happy New Year too! We'll be back in school on January 3rd!